Community Supported Brewery
join us in cultivating a community around our farm brewery.
Priority Seating, Quarterly Party, Discounts, Early Access to Beer Releases, and More!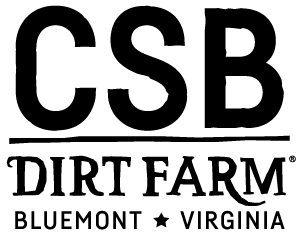 Much like a community-supported agriculture program, we want you to receive the freshest of everything that Dirt Farm has to offer.
And, in the farming spirit, we are inviting you to join us in cultivating a community around our farm brewery.
As a CSB Member, you will receive premiere access to the freshest, plow-to-pint beers of the season, monthly beer pick-up of your choice, and so much more.
To further connect you with our family farm, included in our CSB Membership are discounts at our sister businesses, Great Country Farms, Bluemont Vineyard, and Henway Hard Cider.
Monthly beer pickup.

(Approximately $60/quarter value)

Early access to new beer releases!

Be the first to try our new beers! 

15% off all beer, food, merchandise, and ticketed events

Quarterly Pick Up Party!

Get to know the DFB community with a beer party! 

Priority Seating and Service

Access to CSB members-only reservation system

Enjoy discounts at our sister businesses

• Fan of the Farm season pass at Great Country Farms ($249 value)
• 10% off select bottles of wine at Bluemont Vineyard and cider at Henway Hard Cider
Would you like to know more about our Membership?
Please send us a bit of info and we will be in touch with you.
By filling out this form, your membership is not confirmed. We will get back to you via email to complete the membership enrollment process.