We are committed to bringing fresh and local ingredients to the craft beer scene in Loudoun.
With our hop yard, barley fields, Dirt Farm's very own yeast strain, beers like Tart 31, Som Peach and our Pumpkin Ale that utilize traditional fruit and veggies, we've only scratched the surface. NO FARMS NO BEER!
We are grateful to work and play surrounded by our own family and many friends. We welcome you to bring yours & slow down a bit in the country.
Our name, "Dirt Farm" pays homage to our farming heritage that spans three generations.
Farming runs deep in the Zurschmeide family, instilled in us by our patriarch, Bob Zurschmeide, who grew up farming in Indiana. Bruce still says the money his dad saved to put himself through college was covered in peach fuzz.
The family moved to Loudoun County in the early 1970s. They started a small homestead farm in Lincoln, Virginia. The Zurschmeides leased up to 400 acres across the county to grow sweet corn, mums, pumpkins, and vegetables for the original family Farm Market, Fruit of the Vine, in Leesburg, Virginia.
As the family and Loudoun County grew, moving equipment in traffic created a huge challenge as a result we purchased the fallow farm in Bluemont, VA in 1993 that has become Great Country Farms. As we nurtured the soil back into production the business expanded to open Bluemont Vineyard in 2007. The wine industry has flourished throughout Loudoun and in recent years we saw the rise in demand for locally sourced fruit, hops, etc for breweries as the craft beer scene exploded in Virginia.
In 2012 the opportunity arose for the purchase of 100 surrounding acres of hillside with handsome stone buildings and that is now home to Dirt Farm Brewing.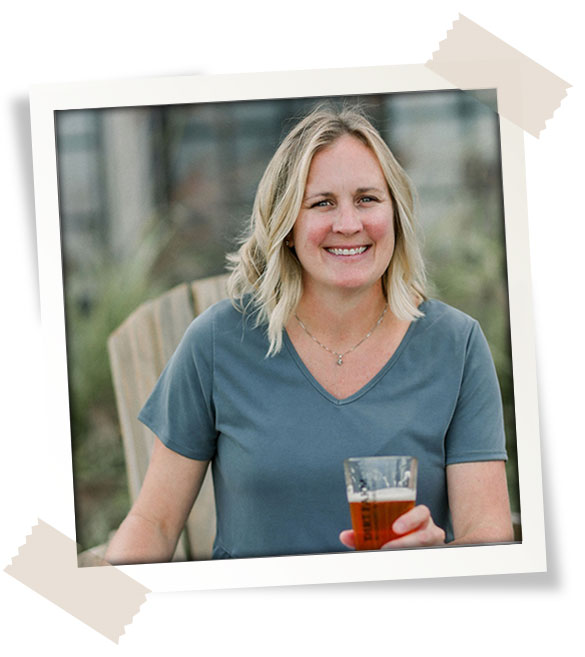 Janell has a lifetime attachment to western Loudoun and a strong adoration for and a good IPA. She helped bring the farm brewery bill, SB430 across the finish line for the Commonwealth as well as Loudoun County's zoning ordinance to expand farm breweries as a rural use. She is the current and first female chair for the Virginia Craft Brewers Guild (VCBG) and manages the business. You will find her in the taproom unless she is off enjoying life with her husband Bruce and their three children.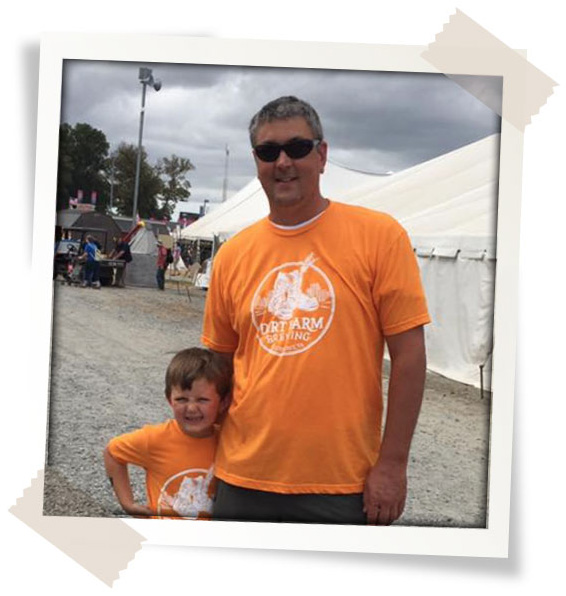 Bruce carries his years of farming and winemaking expertise down the road to Dirt Farm. His love of terroir and fermentation flows deep here in Bluemont as his creativity continues to get us closer to our plow to pint mission. Bruce oversees the next generation of Zurschmeides putting their stamp on the family farm.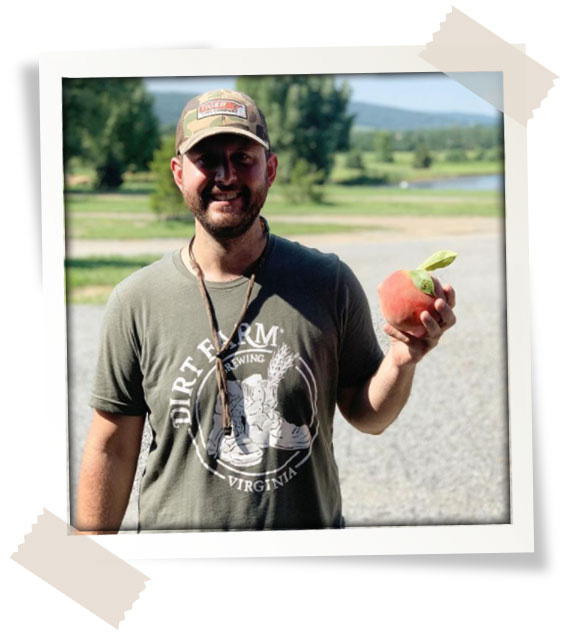 Wes is the head brewer and a third-generation Zurschmeide. He embodies our motto of "Dirt Don't Hurt" as he rolls up his sleeves and turns farm-fresh grains, hops, fruits, and our mountain water into handcrafted brews with true flavor and a sense of place. The goal is to bring you closer to what our farm family is growing and to this great land where they grew up and still call home.
Chef Justin's cooking style is much like a delightful culinary roadmap. He has successfully mastered low country Southern Cuisine while owning The Barefoot Bistro in America's culinary destination of Charleston, SC. The Loudoun County native's culinary career started humbly 20 years ago while working in Loudoun County's notable restaurants such as The Ashby Inn and Candelora's. He has been the Executive Chef for two of Northern Virginia's Top 50 restaurants. He joined our Dirt Farm Brewing family in 2019 and has successfully blended his creative culinary approach into the local craft beer scene.
My Dad taught me very young to show grace to others and especially in a time it's not reciprocated. His lesson: "You have no idea what they have going on in their life right now." I now tell my children the same. Be kind to others. You will feel much happier to do so.
— Janell Zurschmeide, Founder & Owner